If you are reading this you are probably considering attending Clio Cloud Conference 2017 or you work for Clio. Either way, read on.
This is my attempt at reviewing Clio Cloud Conference 2016. Which is a difficult thing to do. There is one of me. There were numerous seminars. So my experience may be vastly different than what someone else experienced.
You should also understand my background. I'm very into legal tech. I spend a lot of time studying and refining my business and tech. A lot. Doing so allows me to better serve my clients. I am constantly trying new software. And implementing what I like.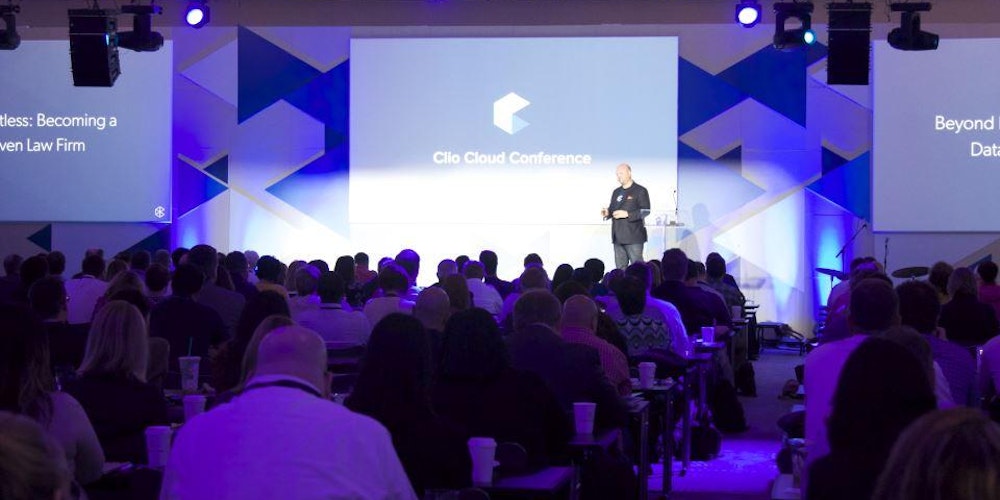 One of the first software investments I made when I went solo was to sign on with Clio. I did so in 2012. I have been with them consistently since then. I believe I was a "beta" subscriber. I believe that Clio is the best practice management software available to small firms and I recommend the product.
I don't work for Clio. I paid my way to the conference. Clio gave me a shirt, a bag, and some great socks as take aways. None of which has impacted my review.
The Good:
Nobody puts on a better conference than Clio. From the second I walked in, I felt like I mattered. They thought of all sorts of ways to improve the attendee experience. The food was great. The Clio After Dark was fantastic. It was easy to find and talk to vendors. The Radisson Blu was swanky. The entire conference had a "cool" vibe. I don't think Disney puts on a better production. The Clio staff was very helpful and friendly.
Some of the presenters were very good. I particularly enjoyed a presentation about hiring trends. I thought the session was both practical and insightful.
There was lots of tech, lots about Clio, and lots about business.
Yoga between sessions. Lots to like.
The Not So Good:
For as great of a production as the conference was – it was difficult to find the right room for a seminar. The online map provided in the conference app was useless as it did not label rooms the same way they were labeled on the agenda. This sounds strange. But I wasn't the only one who had a tough time figuring out what room was what. I even walked into the wrong room and sat down in the wrong seminar. I felt bad leaving but I wasn't the only one.
Bigger room signs would be nice. But the 2017 Conference is in New Orleans so that will be different.
Some of the presentations weren't good. I'm not going to name names on this site because that would be rude. But some of them I gave poor reviews to. I felt like they were wastes of time. In the sense they were too general, too ambitious, too unfocused, and sometimes behind the curve.
The descriptions of seminars were sparse or non-existent. A few paragraphs on the conference website about the topics that were going to be discussed would have been nice. They could have then been put in the app. That would have solved some of my problems with me not feeling like some of the sessions were worth my time.
The Problem:
At any conference there are speakers that you'll enjoy and one's you won't. And what is not insightful to me may feel revolutionary to someone else. And vice versa. I'm sure an HR person would have found the hiring seminar too basic.
I think the basic problem with Clio Conference is existential. What is it? Is it a cutting edge legal tech conference? Who is the audience? Should only tech geeks attend?  Should every session be general or narrow? It is hard to do a business development session in an hour. Is the audience big law or small law? Is it a place to learn Clio?
There was a seminar that I was particularly excited about. Without knowing it, I found myself sitting down with one of the presenters. My eyes lit up when I found that this person was presenting one of the 2 or 3 sessions that most interested me. I decided to use the opportunity to pick his brain. As we discussed the subject matter he said "I think you may be too advanced for this session….many people here don't even know about this topic so I have to keep it basic".
Said another way, there's no reason to sell lawyers who are using facebook on the benefits of using facebook.
But that same session may have been worth the price of admission to someone else.
Verdict:
I changed my flight to leave the conference early on Tuesday. About noon. I was scheduled for a red eye but hopped on an afternoon flight back east. I felt my time was better spent getting home so I could see my kids before they went to bed and be ready to tackle Wednesday. The conference wasn't for me.
Others stayed and loved it.
I hear Gary Vee was awesome.
I think the conference was very well done, very cool, just not for me.
What I'd like to see Clio do for 2017 is:
Put the agenda and speakers out as soon as they come onboard. I think when I booked my ticket, I did so blindly. I went based on reputation and the strength of the 2015 speakers.
Do seminar summaries. Keep them short. Even a few paragraphs. Even a blurb about "target audience".
Distribute slides from seminars online in the app.
Think about the big picture. Who should go? What should they get from this? What is Clio Cloud Conference? And perhaps limit your focus areas. It's really hard to do a broad "how to grow your business" talk in 30 minutes. What would have been preferable is a day of 30 minute speakers each exploring an idea or 2 that has worked for them. Then I could get actionable take aways.
Bigger room signs.
More vendors. One of the coolest things about the show was talking to vendors. I found the vendors to be very useful. At least the ones that were useful to my practice or that I wasn't already using.
Keep the keepers. You have a great vibe, great staff, great after hours party – there's lots to like here.
I'm going to keep my eyes on the agenda for 2017. I hope to see blurbs about the seminars.
You are going to read a lot online about how much fun this conference is. Believe it. It's a lot of fun. And if you want fun – sign up now for 2017. Get your early discount. You won't regret it.
But my expectations were a little higher than "fun". Ultimately, I place a very high premium on time away from my clients, business, and family. If I had to do it over again, I would have skipped the conference and spent a few days in Chicago with my wife. Again, your mileage may vary.
And if you are an associate at a large firm, and they'll pay for it, by all means go.
I do think many of the problems that I encountered – including the decision to attend – could have been solved with more information about the substance and target audience of each session.
Who knows, maybe I'll try and become the solution and pitch a session to Clio Conference 2017. I mean the conference was cool. I'm sure there are sessions that I'll like. And I'm positive Clio will put on a great show. And New Orleans. I mean New Orleans.
And if you are reading this far, I'd like to thank the Clio staff. You couldn't have been better hosts. I hope this post doesn't come off as ripping anything about the Clio team or the conference. That's not the intent. I guess I liked it enough to care about writing it and I want to see it improve and grow.
Posts That May Interest You: