by Ryan McKeen
I'm in love. Before I tell you what I'm in love with, I'm first going to tell you what this review is and what it isn't.  It isn't a CNET review.
I've read every credible review of my new love and I'm posting links to some the best reviews at the bottom of this post.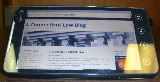 This is a review of a mobile device (calling it a phone misses the point) by a lawyer for lawyers.  This is an unbiased review based on what I've read and my experience testing Sprint's HTC Evo 4g for two weeks.
By way of background, I'm the ABA's Android Attorney. I reviewed the Motorala Droid for the April 2010 edition of the ABA Journal. I'm the guy in the white shirt.
For what it's worth, I own and use Sprint's HTC Hero as my everyday phone. I've tested the Motorala Droid for 2 months, have used the iPhone 3G and 3GS, and have some experience with the Palm Pre and various Blackberry Devices. No one is paying me for this review. I received nothing for it.  I informed Sprint that I was looking to review the EVO 4G and they sent me a unit to test for 2 weeks. I have since sent the unit back to Sprint (unfortunately). You are getting my honest and uninfluenced opinion of the phone.
SIZE
The first thing I noticed when I opened the EVO 4G was it's size. It's large. Initially, I thought it was too big but those concerns quickly faded as I started using the phone.  Below are some pictures of Evo 4G. You'll see it placed next to my HTC Hero, a $20 bill, and my iPod Touch to give you some idea of its size in comparison to other devices. The phone will fit neatly into the pocket of a suit coat. Over the course of using the phone for two weeks, the phone did not feel big at all. I came to appreciate the additional size when it came to
both typing and web browsing. If you've played around with a touch screen before but have found them too small consider putting the EVO 4G in your hands because it just may work for you. The EVO features a 4.3 inch screen which is larger than the iPhone 4 (at 3.5 inches), the HTC Incredible (3.7 inches) and the Nexus One (3.7 inches). If size matters to you….consider marrying the EVO.
SPEED
This sucker moves. HTC could have named it the Usain Bolt.  It features a Qualcomm 8650 Snapdragon Processor and 512 mb of RAM (the same as both the Incredible and Nexus One). I did not find any lag whatsoever while using the EVO 4G. Apps opened quickly and everything about the interface felt smooth.  Going back to using my HTC Hero has been difficult after being spoiled by the speed of the EVO 4G.
4G
Sprint's EVO 4G is the first 4G device to be sold in the United States. 4G networks are the wave of the future when it comes to how we are going to consume wireless data.  4G networks are faster and more sophisticated than 3G networks in terms of speed and data management. In short a 4G network is much more capable of providing faster delivery of multimedia data than a 3G network. Sprint claims its 4G data speeds to be up to 10 times faster than 3G data speeds. From all I've read, that claim is possible but in all practicality it's not what you are going to experience (at least right now) from a 4G network.
For my more technically inclined readers, Sprint's 4G network offers peak download speeds of more than 10 Mbps and average download speeds of 3-6 Mbps. Whereas 3G offers a peak download speed of up to 3.1 Mbps with average download speeds of 600 kbps to 1.4 Mbps. The bottom line is that 4G should provide more reliably fast download times than 3G.
Right now Sprint is the only carrier offering a 4G network to its users. The problem is that 4G is not available in all markets (for example my market of Hartford).  Sprint currently offers 4G coverage in 32 markets and expects to have 120 million people covered by the end of 2010. Before buying the phone, you may want to check Sprint's website to see if 4G coverage is available in your area. If 4G coverage is not available in your area your EVO 4G will work on a 3G network.
Since Hartford doesn't have a 4G network, I decided to take my EVO 4G to Baltimore for the weekend. It just so happened the Red Sox were in town. Sprint launched its 4G network in Baltimore in 2008. I had no problem getting 4G connection in downtown Baltimore. It was fast. The best I can compare it to is using an iPad with a strong wifi connection. Everything downloaded quickly.
Was it 10 times as fast as a 3G connection? I don't think so but nevertheless it was pretty cool. If you get the EVO 4G keep in mind that 4G is still in its infancy. While I had no problem getting 4G service in downtown Baltimore, I could not get a signal at BWI (about 15 minutes outside of the city). At the end of the day, when you buy an EVO 4G at least you can rest assured that your phone will have the capability to access an ever expanding 4G network.
MOBILE HOTSPOT
One of the features that I think sets the EVO 4G apart from its competitors and makes it the ultimate lawyerly phone is that it can be used as a MiFi hotspot.  What does that mean? That means the EVO 4G receives a signal from Sprint's 3G/4G network and is capable of sharing the wealth with up to 8 WiFi enabled devices. Imagine you're in court with co-counsel and you do not have access to a WiFi network.  You and co-counsel on a case want to use laptops at counsel table during trial. So long as your EVO 4G is able to access Sprint's network you can surf the internet on your laptops making it a lot easier to search legal databases.
I had no problem connecting both my laptop and iPod Touch to the EVO 4G's MiFi hotspot. Best of all for lawyers, the signal is password protected meaning that only users with your password can sign onto your hotspot. It's pretty cool. Keep in mind that if you want to use your EVO as a MiFi hotspot it is going to cost you an additional $29.99 a month.
SECURITY
Ethics rules and common sense require lawyers to be very careful with data. Smartphones have the potential to store a lot of sensitive data. The EVO 4G has several strong security features. First it is possible to remotely wipe the phone which cleans data off the device and returns it to factory settings. Perhaps as importantly, it offers local wipe.  When someone incorrectly enters the PIN a set number of times (as established by the user), then it will reset and return to factory settings. It offers different levels of security for user name/password enforcement, configuration, and  authentification. For corporate liable devices, it offers administrative controls so the firm can manage what type of access each employee has on their device (certain features, applications and data).
CAMERA
One of the features that matters most to me in my day to day practice is a good camera. In my practice, I never know when I'm going to need a camera. Whether it's witnessing something unexpected or documenting the condition of a person or thing – a good camera is essential to my practice. That's why when the iPhone 4 was announced with a 5 megapixel camera, I was underwhelmed. The EVO 4G comes with an 8 megapixel camera with auto focus and dual flash. Here are 3 unedited pictures taken from the same place within a minute of each other from different cameras: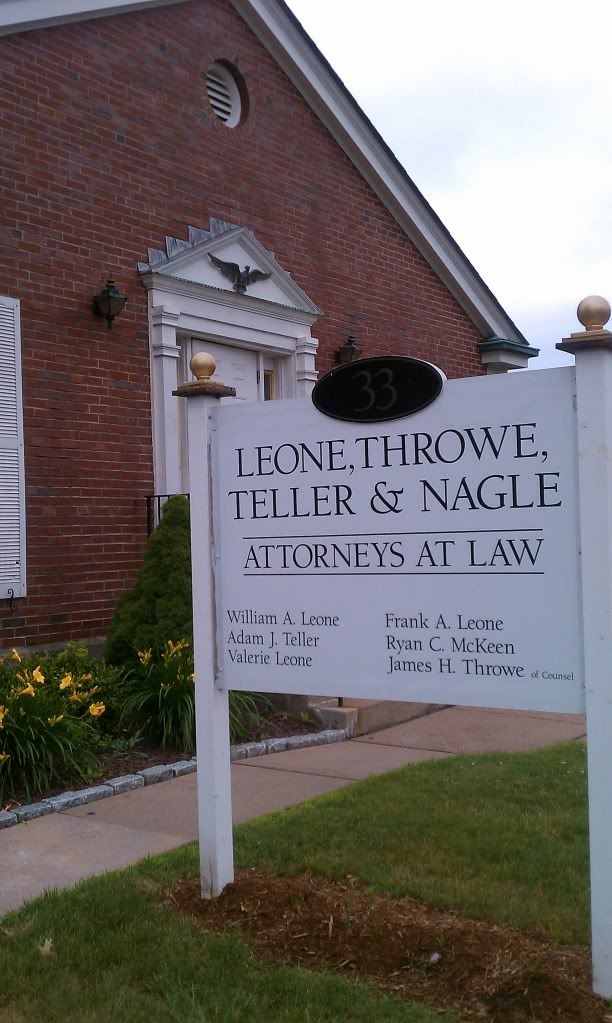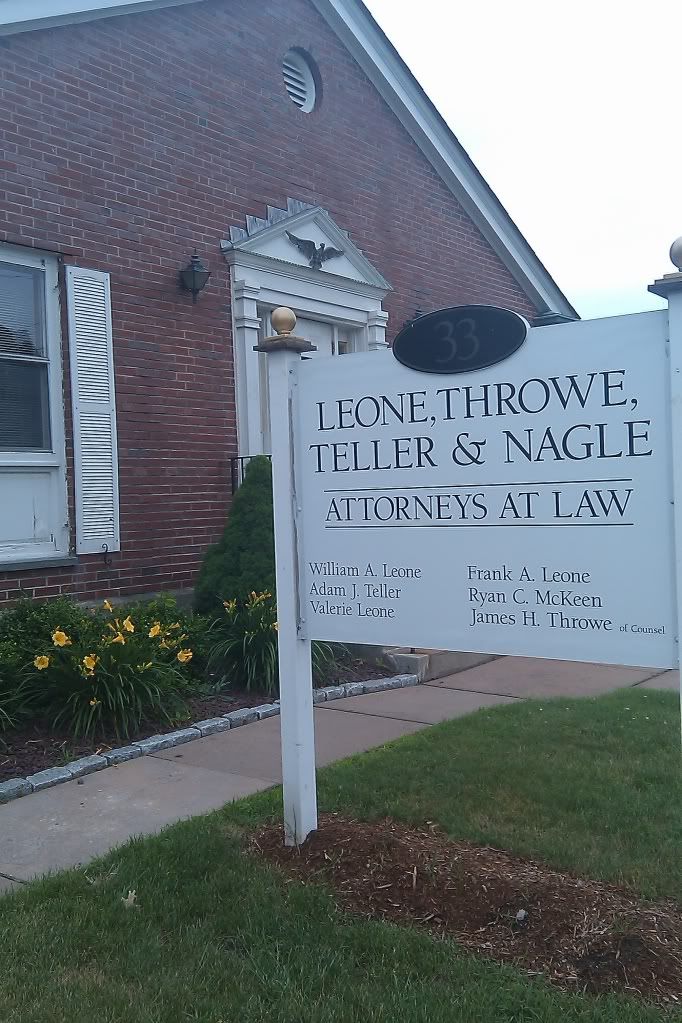 The EVO 4G ships with an 8GB MicroSD card which can be upgraded to a 32GB MicroSD card. I found it easy to both remove and insert the MicroSD card from the back of the phone.
NAVIGATION
The practice of law often involves travel. I'm all over the state.  Whether it's court in New Haven, a deposition in Bridgeport, meeting with a client in Salisbury, or attending a hearing in Norwich, I'm often on the go. The EVO 4G comes preloaded with Sprint Navigation which provides turn by turn GPS. Google Maps also does the same thing. Both of which are useful. If I need a place to grab lunch when I'm on the go, I find the Google Places app to find a restaurant in my area.
BATTERY
Many of the reviews that I've read are critical of the battery life on this phone. A few things here, when I reviewed the Motorola Droid, I couldn't kill the battery no matter what I did. Another guy I know with the Droid said the same thing. Other people have told me they've had nothing but issues with the Droid battery.  Reviews online reflect the same "split of authority".
I learned that it's likely not all batteries are created equal. I had no problem getting through a day of use of the EVO on a single charge. I was able to get and send email, surf the web, make some calls, send some text messages, and use some apps without killing the battery.
That said, if you want to make full use of the phone's GPS features, I suggest that you purchase a car charger for your phone. Any app that is data heavy like Pandora will drain the battery pretty quickly. You can also purchase a second battery for the phone in the event that you do a lot of travel and may be away from a power outlet for some time.
Changing the battery is easy and can be accomplished by popping off the back of the phone. No genius needed. Using 4G was a drain on my battery to the point that the phone started getting hot in my hand. I'm not sure why this happened but it did for me. The EVO comes with a Wifi like option to stop the phone from searching for a 4G signal.
In the final analysis, I wouldn't let the battery life on this phone deter me from purchasing it. The good outweighs the bad but if you're a heavy user and frequent traveler consider purchasing a second battery and car charger. That way you'll get the most out of your phone.
VIDEO CONFERENCING
Are you on the go and don't have time for a face to face meeting? The EVO 4G has you covered. It comes with a 1.3 megapixel front facing camera.  This allows you to make video calls using a free app called Qik. I gave it a spin and called my Dad's skype number. We were able to see each other with no problems.  I'm not sure how much I'd use the feature in practice but at least it's an option.
THE SOFTWARE
The EVO ships with Android's 2.1 software.   Sprint has confirmed that the EVO will be receive a Froyo (Android 2.2)  update in the near future.  The biggest advantage to Froyo is that it should make the EVO even faster.
In terms of your law practice, Froyo promises enhanced security and will be easier to plug into exchange servers, sync calendars and email accounts, and allow firms to set security policies.
From all I've read Froyo is a significant improvement over 2.1 and one of my largest criticisms of the phone is that it did not ship with Android's most advanced operating system.  The EVO is the premier Android phone on the market right now, it's super powered in every way, except it's operating system.  It's kind of like  signing Lance Armstrong to race for your team and giving him an older model bike.
CALL QUALITY
That's right, it's a phone too. The call quality was excellent.  I had no problems hearing anyone and everyone I spoke with said my voice came across clearly. I did not experience any dropped calls while I had the phone.
APPS
Yes there's an app for that….except Farmville.  The Android Marketplace presently has over 70,000 apps and growing.  Plus Android Marketplace gives you access to the latest and greatest Google Apps. Google has made some outstanding mobile applications and I expect this to continue.
HARDWARE
I liked the kickstand on back of the phone a lot more than I thought I would.  I found myself frequently using it while sitting at my desk. It also turned the phone into a fully functional alarm clock when I was in Baltimore.  I was surprised by how useful I found the kickstand to be.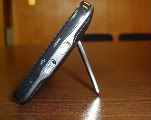 Overall the phone felt sturdy in my hands unlike the HTC Hero.  The phone is also very thin which I found to be a plus.
PLANS
The EVO 4G requires a Premium Data add-on of $10 a month. Sprint says this is so "customers to take advantage of a richer data experience on HTC EVO 4G than ever before at both 3G and 4G speeds."
Even with the $10 a month data plan, Sprints data plans are still less expensive than their competitors comparable plans.  For business users, Sprint tells me that the best plans are as follows:
200 voice minutes — $59.99/month
450 minutes — $69.99/month
900 minutes — $89.99/month
1350 minutes — $109.99/month
2000 minutes – $129.99/month
4000 minutes — $179.99/month
The $10 premium data charge is in addition to the prices quoted above.  For example, 450 minutes of voice calling, will cost you $79.99 a month. Keep in mind that Sprint's data plans include the following:
Any Mobile, Anytime: Unlimited domestic calls from the Sprint network to and from ANY U.S. mobile phone regardless of carrier. Any network, any time.
Unlimited data on our network: Web surfing, email, GPS Navigation, Sprint TV and Radio, NASCAR Sprint Cup Mobile
Unlimited messaging: Text, pictures and video
Considering all this phone does and all the data plan includes, while not cheap, the plans are reasonably priced.
CONCLUSION
The EVO 4G is already the creme de la creme of mobile devices for attorneys and when it gets the Froyo update it'll be even better.  It's truly a cutting edge device.  If I were in the market for a new phone right now I would buy an EVO 4G.
I give it a 4.5 out of 5 stars. If the battery life were a little better, it shipped with Froyo, and I didn't have to pay an additional $10 per month for "premium data" which in Hartford gives me the same service as my data plan for the HTC Hero – I'd give it a 5 out of 5.
With a two year contract, the EVO costs $199.
Useful reviews: