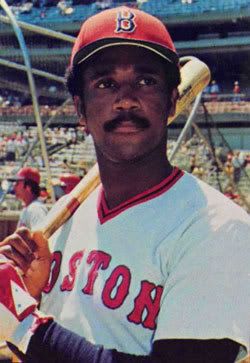 Jim Rice wasn't elected to the Hall of Fame yesterday.
What does this have to do with Connecticut law you might ask? The answer, as far as I can tell is nothing other than inspiring me to write a baseball law post.  What is interesting is the present divide in Connecticut superior courts on the issue of the liability of foul balls. 
Suppose this season, the Rock Cats decided to honor Jim Rice who played for the 1973 Bristol Red Sox. Let's say that before the game, Rice was provided with an all you can eat barbecue at the Picnic Patio. While enjoying some barbecue, Rice was struck by an errantly thrown baseball.  Let's also say that Rice  wished he was wearing a cup when he was struck by the baseball.  Can Rice recover from the Rock Cats for his injuries?
A superior court was confronted with exactly this issue (minus Jim Rice) in Teixiera (not Mark)  v. New Britain Baseball Club, Inc.,  41 Conn. L. Rptr. 777 (Conn. Super. 2006). 
Judge Shaban, in granting the defendant's motion for summary judgment,  held that a spectator, in Rice's situation, could not recover for his injuries because:
1.) the Rock Cats met its obligation to protect spectators from batted balls when it placed a screen behind homeplate;
2.) the possibility of being struck by a baseball during a game is an open and obvious danger; and
3.) the Rock Cats adequately warned Mr. Teixiera of the danger of batted or thrown balls when a sign was displayed in the Picnic Patio that read "beware of foul balls at all times" and a similar warning was on the back of Mr. Teixiera's tickets.
The court in Teixiera looked to other jurisdictions for guidance and adopted "the limited duty rule" which holds that a stadium owner is only responsible for screening the most dangerous section of the field (behind home plate).
 As an aside, in the opinion, Judge Shaban penned my new favorite footnote:
Sometimes balls are found flying outsidethe park. This is not unusual at most minor league facilities, but it occurs even on the major league level at places such as Fenway Park in Boston (over the Green Monster onto Lansdowne St.), Jacobs Field in Cleveland (through the Home Run Porch pavilion in left field and out onto E. 9th St.), AT & T Park in San Francisco (over the right field stands into the water in McCovey's Cove where kayakers and boaters jockey for position in hopes of fishing out a prized souvenir), and PNC Park in Pittsburgh (where fans float on the Allegheny River waiting for a ball to splash down after traveling over the "Hit it Here" sign on top of the right field stands).
In this case, the plaintiff was denied recovery, but like Rice's Hall of Fame candidacy the issue is not yet settled.  In an upcoming entry, I will examine how another Connecticut court ruled on the issue of the liability for foul balls.